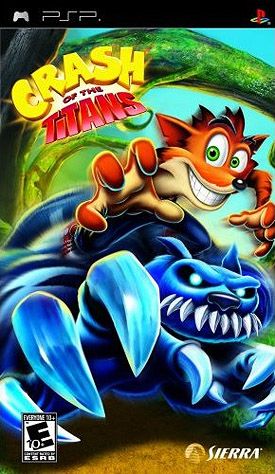 Nombre:
Crash: of the Titans
Titulo Alternativo:
Crash: Lucha De Titanes
Géneros: Acción, Arcade, Aventura, Plataformas, Puzzle
Estado: Completo
Tamaño del Archivo: 810,2 MB
Idioma: Español
Fecha de lanzamiento: 04 de Octubre de 2007
Sinópsis: Regresa Bandicot, un representante de los juegos de accion y plataformas que inició su andadura por los años 90, y que vuelve con la intención de regresar a sus orígenes.
Crash ha vuelto pero, cansado de tantas aventuras, ha decidido traerse a unos invitados de excepción. Son grandes, muy bestias y de proporciones descomunales. No obstante, serán capaces de hacer el trabajo del marsupial, que los controlará montado en sus lomos y recorriendo unos entornos que harán honor al género de las plataformas. Si te gusta Crash, hoy es tu día. Si no, puede que te apetezca descubrirlo…
Lucha de Titanes es un juego de plataformas para PSP protagonizado por la mascota más famosa de Naugthy Dog, Crash Bandicoot, uno de los personajes plataformeros más famosos de la historia de los videojuegos. En este juego controlaremos a Crash por niveles de plataformas tridimensionales con la particularidad de que podremos montar sobre unos monstruos conocidos como Titanes, los cuales podremos usar para beneficiarnos de sus habilidades y lograr superar cada nivel.