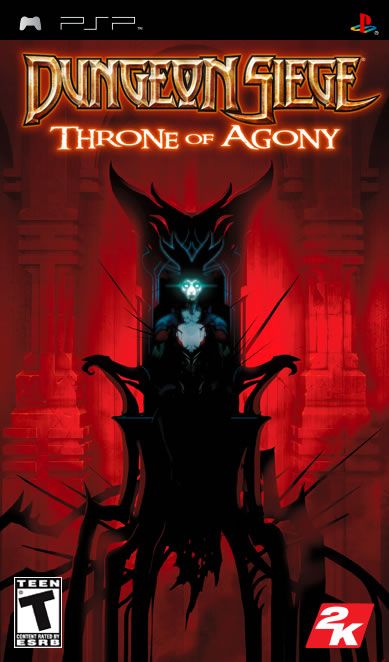 Nombre:
Dungeon Siege: Throne of Agony
Titulo Alternativo:
Dungeon Siege: Throne of Agony
Géneros: Acción, Arcade, Aventura, Estrategia, Lucha, Plataformas, RPG, Táctico
Estado: Completo
Tamaño del Archivo: 454,4 MB
Idioma: Español
Fecha de lanzamiento: 30 de Octubre de 2006
Sinópsis: La saga Dungeon Siege se sale por primera vez de sus fueros de PC para acercarse a la portátil de Sony. El resultado es un juego muy distinto que, pese a sus defectos, resulta bastante interesante para los aficionados al género.

Capítulo completamente inédito y exclusivo para PSP, de la saga Dungeon Siege. Una aventura nueva con nuevos personajes y posibilidades multijugador cooperativas y competitivas.

El mal asola las tierras de Aranna. Un mago de batalla, una elfa oscura y un caudillo medio gigante, inmersos en sus miedos interiores, acabarán convirtiéndose en héroes para derrocar al mal que se sienta en el trono de la agonía. Dungeon Siege: Throne of Agony te atrapará en su mundo de fantasía.

El rol, género mayoritariamente creado para PC, llega a la portátil de Sony con un título lleno de combates y magia. Múltiples héroes, caminos del bien o de la oscuridad, posibilidad de ir acompañado de una mascota o compañero, hacer frente a más de cien monstruos, campaña cooperativa, un centenar de impactantes hechizos y habilidades, poderosas armas y armaduras, o vehículos acuáticos y voladores para acceder a las zonas mas remotas de las tierras septentrionales, son algunas de las características de este juego que promete hacernos pasar horas y horas enganchados a la pantalla machacando hordas de enemigos con nuestra espada.

Dungeon Siege: Throne of Agony es un juego enormemente bello. Desde la introducción o la presentación de nuestros héroes, que cambian de aspecto a medida que encontramos nuevos objetos y armaduras, a los bellos entornos donde transcurre nuestra aventura.